Antique Wood – Green Building with History and Character
We salvage hardwood and other antique wood materials from buildings that are either deteriorating or slated to be torn down for various reasons. We believe that the wood is too valuable to go to waste, and so we reclaim it to give it a new lease on life.
Sometimes our reclaimed hardwood and other antique wood materials are kept in their original timber or plank form. Other times, we re-mill the reclaimed materials to produce beautiful new flooring, paneling, moldings, stair parts, etc. Many of the original antique wood timbers that we recover have a beautiful patina that has developed over hundreds of years. Others have original hand-hewing, saw marks, and mortise pockets. We have many options for you to choose from. To learn more, give us a call at 770.514.0129.
Nearly all of the antique wood has insect holes, nail and bolt holes, checking, some cracking,  and other characteristics of age.  Most of all antique wood has a mellow coloring and fine grain unavailable from newly cut material.  No amount of distressing and staining/glazing can achieve what hundreds of years of age can do. 
These old trees grew slower.  The rings were tighter and closer together.  They were hand cut and hand-hewn.  The years have added character that cannot be reproduced.  Each board has become a piece of history.

Now its available to you in beams, paneling, moldings, and flooring.  The look is unmistakable–its venerable, old-growth antique, reclaimed heart pine and oak.  Oak is available in either red or white, or mixed red and white oak material. 
"America's

new 

romance

with an

old 

WOOD"
In the colonial days forests of longleaf pines stretched from Virginia to Florida. It quickly became the favorite construction material of the colonists.  Outraging the early settlers, King George II laid claim to all heart pine over 2 feet in diameter.
Today most large old growth Southern Longleaf Pine trees have been lumbered.   But, it is still available from reclaimed timbers from old mills, barns, houses, factories and warehouses.  These timbers yield boards that have developed a beautiful patina over the ages.  The old nail holes and other marks left on them from construction add very desirable character.  Because of its beauty, limited availability and high demand, heart pine millwork and flooring is an excellent investment.
Select Grade boards will be the most consistent with regard to grain and color. The ring density will be comparatively high, and the color will more consistently red. Premium boards may still have blonde highlights, but will be predominantly red. Infrequent bolt holes in a Premium can be eliminated when the flooring contractor makes his defect cuts. Nail holes will be small and infrequent. Knots will be small (generally less than 1 ½ inches in diameter) and will be tight.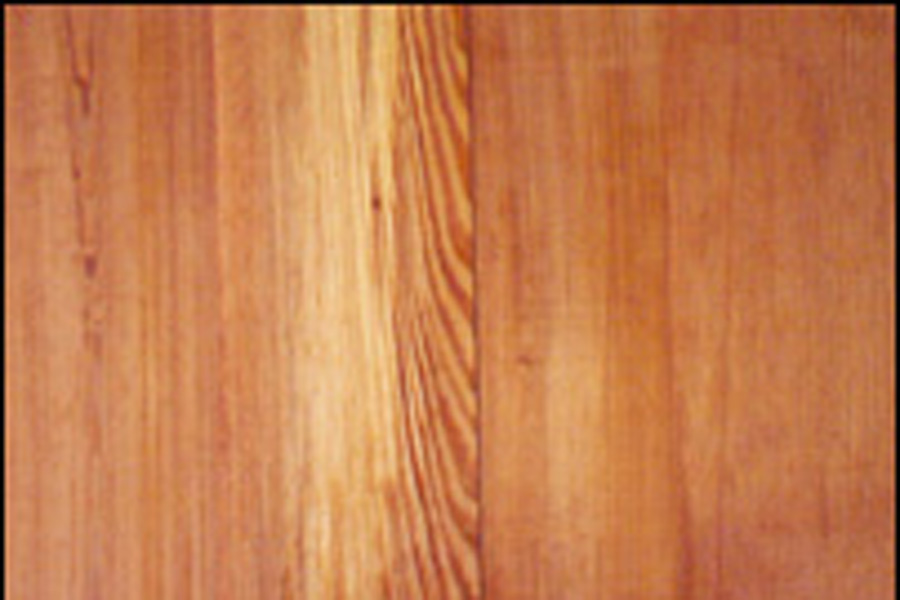 Character Grade boards will also have nail and bolt holes, but typically less than Character. In a Select floor, the homeowner and the flooring contractor will work together to decide the parameters of what goes into the floor and what is defect-cut out of the floor. The greatest difference between Character and Select boards is the consistency of the grain and color. Select boards will have more consistently tight grain and red color than Character boards.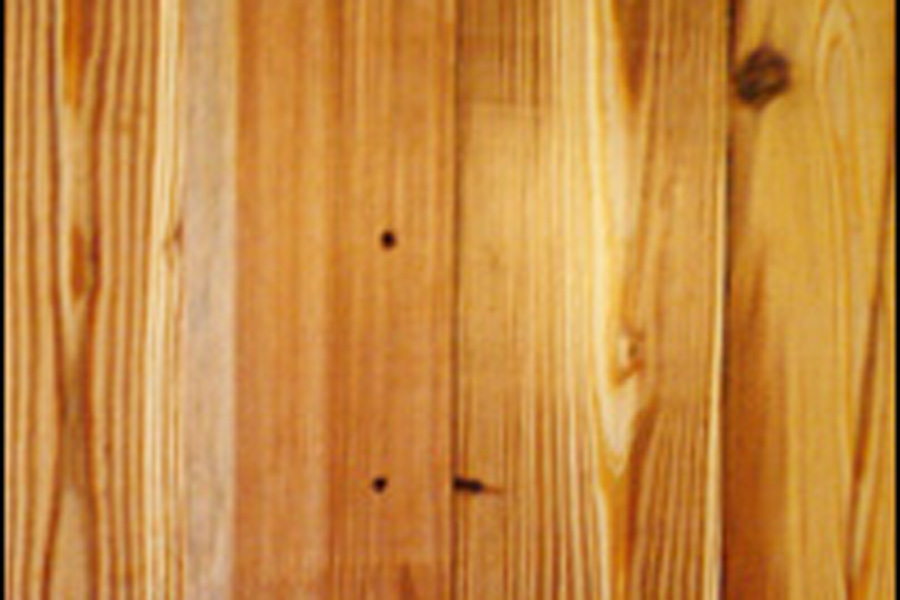 Rustic Grade boards are rustic in appearance. They are more distressed, with frequent nail holes, occasional bolt holes, and knots of all sizes. The grain of Character wood can be less dense, and the color can be lighter (blonde or yellow wood). On the other hand, a board that would have been rated Premium based on density and color might be rated Character due to nail holes. In general, the range of variability is greatest in Character boards.